!cdlinks.htm - last updated 15/11/09>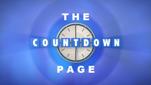 Links

[ Home ]

These are links I've found with some reference to the Channel 4 game. If you find any more that are of interest, please let me know.
---
C4 Countdown
Originally set up as a Yahoo! Group back in 2004, C4 Countdown is now a fully-fledged forum and is the place to go for erudite (and not so erudite) discussion with former contestants and other fans of the show. Managed by Series 59 runner-up Charlie Reams, C4C now boasts over 1,000 members and has had over 60,000 posts to date.
---
cdb - The Countdown Database
As the creator of cdb himself puts it, "The Countdown Corral is dead, long live cdb". The seemingly unstoppable online force that is Charlie Reams has replaced his previous website with another of similar standing. As well as being an unadulterated source for Countdown results and statistics (no pretty colours to be found here!), it's also the quickest route for finding any particular Countdown recap you might be looking for.
---
The Countdown Wiki
Easily one of the best Countdown websites now in existence, and set to expand still further, this Wiki-based effort set up by Charlie Reams (yes, him again!), with help from other online luminaries, is a real treasure trove of information, including all the results of past games and full round-by-round details of many. Amongst other things, there are also detailed articles (illustrated in many cases) about former contestants, hosts and celebrity guests, and information regarding Countdown terminology. Recent enhancements include a 'featured article' and a favourite of mine, "Today in Countdown History", which is a great memory-jogger for long-time viewers of the programme.
---
Wikipedia Entry for Countdown
As if the Countdown Wiki wasn't enough, Countdown naturally has its own section on the legendary online encyclopedia, Wikipedia. With many additions from the usual reliable crowd of on-line contributors, this is still well worth a look.
---
Apterous
Possibly the online Countdown game to knock all others into the proverbial cocked hat, Charlie Reams launched Apterous during the summer of 2008. Mainly developed to allow others to play each other online (instead of using MSN), this fantastic (copyright S. Dent) program also allows you to play against computer opponents and will even generate random comments from the guests in Dictionary Corner! It has to be seen to be believed... go and take a look now and be amazed!
---
Countdown in Lincoln
Recently given a makeover by none other than "four from the top" specialist Jon O'Neill, this is the site containing details of the annual Countdown in Lincoln (COLIN) tournament, organised with great aplomb by everyone's favourite 'viscount', Series 46 champion Ben Wilson. Sadly still not updated with the details of this year's event, but well worth a look.
---
Countdown in Bristol
Part of Jerry Humphrey's website (see below), these pages give details of COBRIS, the tournament held in Bristol from 2005 and 2007, but which sadly seems to have fallen by the wayside. Recommended viewing.
---
Countdown in Nottingham
The site containing details of the Countdown in Nottingham (CONOT) tournament, organised by none other than COLIN supremo, Ben 'Nebagram' Wilson.
---
The Official Countdown Page
Countdown's official home on the Web was given a much-needed makeover following Richard Whiteley's death, and now includes an article written by Channel 4's Head of Daytime (and apparent 'villain of the piece' in last year's 'Carolgate') Helen Warner, an excellent 360-degree tour of the studio, a potted biography of Richard's life and an ever-improving gallery of pictures. It also now contains a section that finally recognises the existence of the online Countdown fanbase, and has links to The Countdown Page, C4C and the Countdown Wiki.
---
YouTube
The ubiquitous YouTube is definitely worth browsing for some great Countdown clips - although it has to be said that there are one or two less than savoury ones out there, so beware! Certainly worthy of your attention are those posted on the 'Countdowngoofs' section and those posted by former warm-up man Greg Scott (search for 'Greggles'), especially the special hosted by Greg and featuring two Emmerdale actors as contestants and Richard Whiteley at the numbers board - and I am not making this up!
---
A Tribute To Richard Whiteley
A tribute site set up by Steven Murphy following Richard's untimely death in June 2005, which includes a book of condolence, together with - amongst other things - a full transcript of Carol's very moving 'Calendar' interview recorded the day after Richard's death, and a tribute from the headmaster of Giggleswick School.
---
Gevin's Countdown Group
Despite having been somewhat usurped by C4 Countdown, Gevin's Countdown Group is still worth a look - there are over 8,000 messages posted by well over a hundred people, many of them former contestants, including the contributions of producer Damian Eadie. Also contains an interesting archive of photos and much of the text from the original Reach 4 Forum.
---
Neb's Countdown Site Version 3
This site, written by Ben 'Nebagram' Wilson (see above) has not been updated recently, but has plenty of information for the Countdown enthusiast, including playing tips, a list of prizes and a great article on mythical contestant Harry Peters. Also contains a link to the still-interesting Version 2.
---
The (Alternative) Countdown Links Page
Mike Brailsford, the man behind the Countdown Appreciation Web Ring, presents this set of Countdown-related links, including one which takes us to his experience on the show back in Series 53.
---
The Countdown Games Page
Still in existence, but no longer being updated, Noel Edmonds' biggest fan (or so it would appear!) provided Countdown quizzes to entertain us if the programme just wasn't enough.
---
The UK Game Show Page
This is a superb quiz show reference, which includes a substantial page dedicated to Countdown, and the excellent "Weaver's Week".
---
Andrew Donald's Numbers Game Solver
A Java applet that solves the Countdown numbers game.
---
Countdown's Numbers Game
Neil Rashbrook's number-solving program provides an alternative to the one provided by Andrew Donald.
---
Countup
Jeremy Jones's contribution is one of several to the numbers game solver market, but has the advantage that it can be downloaded for free and run while you're offline.
---
Crossword Tools
William Tunstall-Pedoe, the man behind the legendary "Anagram Genius" software, has launched this site containing (amongst other things) Countdown letters and numbers game solvers. That's the good news... The bad news is that, unlike its predecessor, it's no longer entirely free, although you can use it to a limited extent without paying for a subscription. William's comments on the statistics and mathematics behind the numbers game are happily still freely available on the site and well worth a read.
---
Free Countdown Solver
A combined letters and numbers solver written by David Sheppard. It's quite colourful and, although it doesn't allow the addition of your own dictionary file, rather good. (You may need to download Version 1.1 of the .NET Framework before installation.)
---
Ian Taylor's Conundrum Game
While away a few minutes by testing yourself on the conundrum with Ian's fun on-line game.
---
FlashBits Countdown Conundrum
The people at FlashBits have devised this extremely well-presented and quite addictive conundrum game, which is a highly recommended addition to the Countdown sites on the Web. Don't forget to turn the sound on for best results! (Requires Macromedia Flash 6 or above.)
---
PlayTheShow.com Conundrum Game
Another online conundrum game, with rather less bells and whistles than the one from FlashBits, but still a useful distraction if you fancy a spot of unravelling.
---
ITV.com: Countdown
An officially endorsed Countdown game that is reminiscent of the DVD game released in 2006. Like the DVD version, it features Des Lynam and Carol, but in many ways this is much better as it allows you to make your own letter and number selections and also features Susie Dent in Dictionary Corner!
---
Game Stadium: Countdown
A relatively new entrant in the online Countdown games market, this Java application is a colourful addition to the scene. The game is easy to play and includes a numbers solver, but relies on the honesty of players when declaring their solutions, which may not suit everyone.
---
Jackson6 Countdown
Similar to the above offering, this Countdown game from Max Jackson has some particularly nice graphics and sound for the numbers game, but when I tested it, gave me a real stinker for the conundrum - UROPYGIUM!
---
Le Compte est-il Juste!
Fred Just has written this excellent little numbers game player, spurred on no doubt by Countdown's parent programme, "Des Chiffres et Des Lettres".
---
CountCheat
Yes, CountCheat, the Countdown letters games solver from Adrian O'Neill that you can download and run offline, is back! The latest version has several improvements over the first, but requires the .NET framework to be present on your PC. Recommended.
---
Daz's Web Site
Based on the ZX Spectrum version of the Countdown game, this is an attractive addition to the Countdown software market. It contains some particularly fine sound clips for you to enjoy.
---
Ben Mason's Letters Game Solver
Ben's letters game solver has been around for a while now, but he is currently working on a numbers game solver to keep it company, as well as letter and number generators to allow you to play Countdown using the site.
---
Kountdown
Launched in 2003, this site offers you to chance to play all three disciplines of Countdown online, as well as checking any letters and numbers game solutions you wish, while adding a dash of humour to the proceedings. In an amusing attempt at avoiding copyright issues, just about everything beginning with a 'C' has been changed to begin with a 'K', so stand by to solve that 'konundrum' and choose your letters from 'Karol'. Oh yes, and CECIL has become 'ERIK'. Well worth a look when you're in the mood for it...
---
Numbers and Letters Solvers
Yet more letters and numbers solvers, from Stephen McIntosh, both with and without dictionary support.
---
Ed Ratzer's Online Countdown Puzzle Solvers
Apparently, these have been on the Web since 1999, but until a couple of years ago they had escaped my notice. However, thanks to an email from Ed, I now know of their existence! Mr Ratzer's solvers provide a fast alternative to the ever-increasing number of similar programs out there.
---
Gareth Evans' Countdown Numbers Game
Although this is yet another numbers game player/solver in an already crowded market, this Flash program does have a rather neat interpretation of CECIL and the numbers board, which allows you to pick your own numbers and press a big red button to start the clock. Worth a visit for the visual element in particular.
---
The Countdown Database
"The youngest person always wins on Countdown." Or do they? Following this comment from his partner Sarah back in 2003, Steve Paget set out to analyse this in depth by looking at the results from 236 editions of the show. A refreshingly different look at Countdown statistics, and well worth a few minutes of your time.
---
Graham Hutton's Numbers Game Methodology
One for the academics - Nottingham University's Graham Hutton discusses functional programming methods of solving the numbers game.
---
Anagramania
Not technically a Countdown site, but the fact that this game written by Richard Matthews allows you to compete online in a vowel-and-consonant-fest warrants its inclusion.
---
The first ever Countdown
Courtesy of TV Ark, relive the opening moments of the first ever edition of Countdown - the Channel 4 logo, the original opening credits and music, the original set and Richard Whiteley's first words to the nation as Countdown host. Possibly now slightly superfluous, following the repeat to celebrate Channel 4's - and therefore Countdown's - 25th anniversary.
---
Susie Dent 4T
Although I'm not especially into plugging fan sites about Countdown's personalities, this one featuring Susie Dent is bound to prove popular with lots of people. As well as the inevitable screen shots, author "The Hiccuping (sic) Monkey" has also included some other interesting Susie stats.
---
Tom Grundy's Audience Experience
Making rather a refreshing change, former Leeds University student Tom Grundy gives us an insight into what it's like to be a member of the Countdown audience for a recording session.
---
Celebrity Dubbin
One of the few links (and also one of the most esoteric) to have graced the Countdown Page almost from the start, Edward Wild spotted Richard with a can of dubbin in Cambridge back in 1997 - now you can too.
---
Ask Oxford - Countdown
Countdown's home on the OUP website, and well worth a visit, although it could do with an update. Includes a sample audition used by the production team to recruit contestants back in 1999 - very useful info if you're thinking of making your own bid for Countdown superstardom.
---
Jerry's Countdown Page
Jerry Humphreys gives us details of his titanic struggle to prevent eventual Series 49 champion John Davies from being an octochamp, as well as giving us some tips on using four from the top row in the numbers game. Also includes information about the Bristol Countdown Society, photos from Countdown tournaments and details of the aborted recording of Jerry's Countdown Special.
---
Andrew Tatham's Countdown Page
Series 49 semi-finalist Andrew Tatham shares his Countdown photos with the world. The rest of his site is worth a look too.
---
Clare Sudbery: The Loser's Guide To Countdown
Budding novelist and not-quite-successful Series 60 contestant Clare Sudbery provides a starting point for anyone thinking of going on the show, as well as a series of blogs describing her Countdown Experience from start to finish.
---
Craig Beevers' Countdown Pages
Series 57 champion and 2009 British Scrabble Champion Craig Beevers describes his Countdown experience from beginning to end on his personal website, which also has some other interesting sections that you might like to peruse.
---
Independent review
In one of the oldest articles to be linked from this page, Tim Dowling of The Independent praises the mighty Countdown.
---
"Off The Telly"
This TV site contains several reviews of Countdown reaching as far back as 2000, all written by correspondent Ian Jones, as well as a 2007 interview with series producer Damian Eadie by the same author. Recommended reading, but (in my opinion) it's not quite as easy to navigate as it used to be.
---
Matthew Turner Interview
A very readable interview with Series 43 runner-up Matthew Turner.
---
Association of British Scrabble Players
Now managed by Series 17 finalist Evan Simpson, this site is not directly connected with Countdown, but is nevertheless a great site to visit - both for those interested in goings-on in the Scrabble world, and also for those wishing to take a trip down Countdown's Memory Lane, as the pages contain the names of many former contestants.
---
Offical Website of the London Scrabble League
As well as hosting details of the London Scrabble League, which can count many former Countdown contestants amongst its membership, Mauro Pratesi, husband of Series 18 contestant Diane, offers up some extras, including a wonderful Countdown gallery, featuring many great images of Countdowners from the past, including Mark Nyman, Harvey Freeman, Michael Wylie and the first ever Countdown daily champion, the late Michael Goldman. Also now contains scanned images of the covers of almost every edition of the erstwhile Countdown Puzzle Magazine in its various guises.
---
All links checked 14th November 2009.
The links referenced above are external to this website and The Countdown Page is not responsible for their content.
Back to the Countdown Page