!finals.htm - last updated 25/12/11>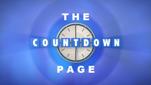 Finals

[ Home ]

Here you will find details of every Countdown Grand Final from Series 2 to Series 65, every Championship of Champions Grand Final, the Champion of Champion of Champions show and the special '1000th' and '1500th' programmes.
Unfortunately, I do not have any records for the first ever Grand Final, other than the final score (thanks go to Mauro Pratesi for that one!) - if anyone does have any further details of the game, please email me.
---
To list the most recent finals first, please click here.
---
Championship of Champions I Grand Final
Championship of Champions II Grand Final
Champion of Champion of Champions
Championship of Champions III Grand Final
Championship of Champions IV Grand Final
Championship of Champions V Grand Final
Championship of Champions VI Grand Final
Championship of Champions VII Grand Final
Championship of Champions VIII Grand Final
Series 33 (Supreme Championship) Grand Final
Championship of Champions IX Grand Final
Championship of Champions X Grand Final
Championship of Champions XI Grand Final
Championship of Champions XII Grand Final
Championship of Champions XIII Grand Final
---
Back to the Countdown Page